Widgeon Creek Year End Trip 20-10-18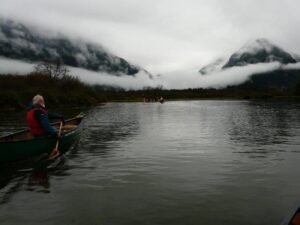 For the final trip of the year nature decided to give us excellent water levels both in and out of the waterway.  There was a light rain earlier in the morning but it had stopped by the time we were loading and we didn't see anymore the rest of the day, although the lingering clouds in the surrounding mountains ensured we never really put our rain gear away.
We had 7 boats with 13 people, solo was Jim S, tandems were Phil W and Leigh B, Dave W and Ralph B, Madeline W and John O, Kim and Cooper T, Mike D and Pam F, and finally Carole P and I.  New faces included Ralph Phil, Kim and Cooper but it was also really nice to see John and Madeline out for the trip. Some of our new people have strong links to Ontario canoeing and historic canoeing personalities so conversation was very interesting.
Dave surprised us by using a paddle with a fully intact blade on this trip; he must have known there would be plenty of water. When we arrived at the campsite for lunch there were a couple boats already there though we didn't see any of the people. Eight of us did the hike up to Widgeon Falls while the rest enjoyed a leisurely afternoon with each other and boats. The hike was good and the falls full of raging water and spectacular as ever. On the route back we took the road and discovered the wash out from last spring remains unrepaired and requires some bush-whacking to circumnavigate.
The rest of the day was a very pleasurable paddle through calm waters, even at the Grant Narrows crossing; it was a nice way to meet our 4 new people all on their first trip with the club. Thanks Leigh B for leading another terrific year end trip and thanks to Dave W for all the work he has done though out this challenging year to keep paddling activities available and interesting; can't wait for the next season and look forward to our winter unofficial trips!
Bob P