South Alouette – October 2016
Sunday, October 2nd, 2016.
Suzanna and John,  Zach and Marek, Bernard and Jan, Mike and Roly, Ryan and Nancy, Sandra and Scott with their junior paddlers Haley and Eric, Bryan and Parsa, 7 tandems in total showed up for the Oct 2nd club trip on the South Alouette.
We met up at the take out at Harris Rd with the clouds parting to bring out the sun.  After waiting around for some no shows we headed for the put in at 224th St.
The river was low at about 2.5 cms flow but had plenty enough water. The first part was flowing nicely and a lot of fun giving a few of the group their first taste of moving water.  Everyone cleaned the upper section.
The river was teaming with spawning salmon that darted past us as we approached them. The kids were on the lookout for Crayfish in the shallows. Herons, Kingfishers, an incredibly nimble diving Duck  and a Hawk dive bombing an Eagle were among the many birds seen.
The flats of the South Alouette have few good take outs for a lunch break, after paddling for quite a while the group finally decided on a spot, it was a challenge to get over the slippery rocks and thru thorn bushes up to the dyke. Once there some walkers pointed out a perfect beach just 100 meters down  the bend in the river
The final leg of the trip was a nice easy paddle thru the winding flats of the river with the warmth of the sun on us.
A great trip, thanks to all that showed up and a special thanks to Mike Dickinson for leading the trip.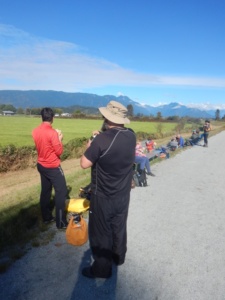 —
Bryan Gormann